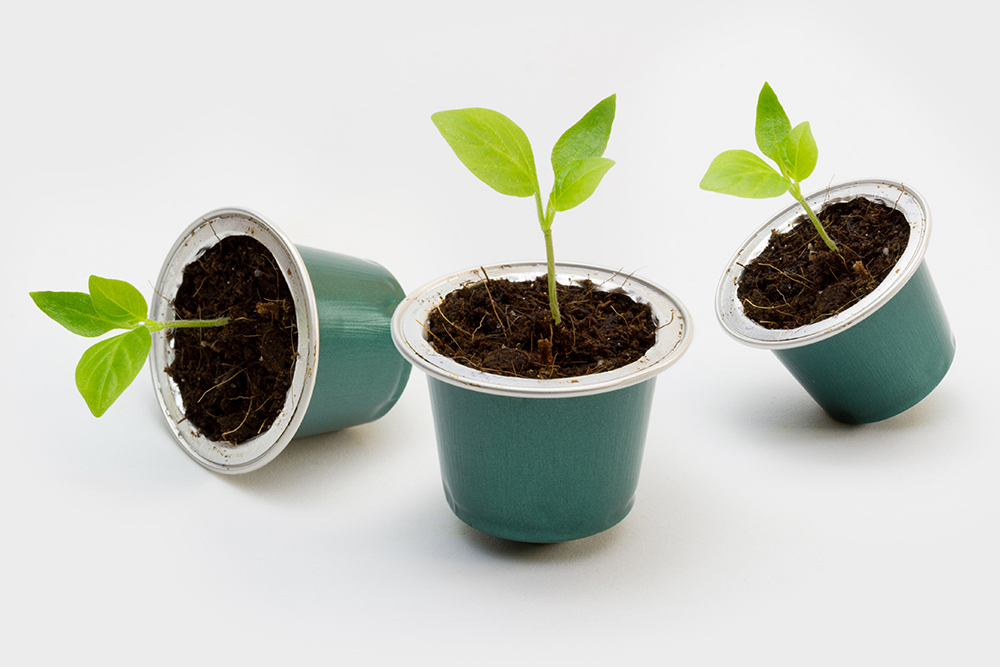 Compost the Plastic Soup!
In February, an article entitled Plastic Soup – the solution appeared in this publication. Among those interviewed for that story was Nico Osse of Hemcell Plastic Solutions. He introduced us to Mr. Robert de Jong, who is working on a solution to the mounting problem of waste coffee capsules and their impact on the environment.
BY LISETTE WEBER-ZIERE
Mr. Robert De Jong: "More and more people want the convenience of single serve espresso machines, like those from Nespresso, Illy or Keurig, but are extremely troubled by the mountain of waste caused by the use of the aluminum and plastic capsules containing the coffee. However, coffee capsules are an excellent example of an application for which compostable material could be used instead of the current conventional non-compostable. After all, before use, inside the capsule the coffee is dry. After use, the coffee inside is wet and forms a perfect composting engine. Over the past years, we have developed a material to fit the requirements for coffee capsules. As simple and easy as they look, coffee capsules are in fact a complex and demanding application, requiring a material that is able to withstand high pressure (in some machines, 15 Bar or higher) and temperatures of up to 100 degrees Celsius.
You've developed a raw material that meets the functional requirements for coffee capsules. Yet coffee capsules made from, among other things, sugarcane-derived bioplastic have already been on the market for some time. Apparently, more than simply compostability and meeting the functional requirements are needed to convince businesses and consumers to switch to environmentally-friendly coffee capsules. What would you consider the full picture?
Mr. De Jong: "Finding a raw material suitable for the production of compostable coffee cups proved to be a long and difficult quest. When we started out, we defined a number of criteria that the material needed to meet, next to the two requirements already mentioned. These were:
– the material needed to be home compostable; i.e. require no further processing to compost and should yield clean compost.
– the material had to be easily processable on existing equipment using existing technologies, i.e., injection molding and thermoforming, both of which are the main processing technologies currently used to produce coffee capsules.
– the price of the raw material had to be more or less in line with that of the materials currently used for the production of coffee capsules.
– the raw material needed to be able to meet all applications, i.e., be resistant to pressures of 15 Bar or higher and to temperatures in excess of 100ᵒC; it had to have excellent oxygen barrier properties, present no migration issues, be free of heavy metals and toxins such as pesticides, compliant with food contact regulations, and so on.
– the raw material should preferably not be cultivated on arable land that could be used for food crops.
– the raw material should be carbon neutral."
He continues: "We started our search in 2013 and spent the next years evaluating initiatives from all over the world. After learning about Hemcell, we realized that in technical terms, this material represented the most complete compostable equivalent to plastic. After an initial year of close collaboration, we decided to set up a joint venture with Hemcell. Based on our knowhow, we were successful in modifying the Hemcell material in such a way that it became suitable for the production of home compostable coffee capsules. All of the requirements we initially set out with have now been met. Even though Hemcell is based on PLA – a bioplastic currently derived from corn – using Hemcell reduces the use of PLA in other applications too. The next step is to make businesses and consumers aware that it is now possible to enjoy a closed-loop espresso in an environmentally friendly way. We hope and expect that once the market understands that instead of further contributing to the pollution problem it is also possible to opt for environmentally friendly and home compostable material, this material will be used for more and more applications. Marine compostability is the next step. We strongly believe that introducing clean compostable products contributes most to the improvement of our environment."